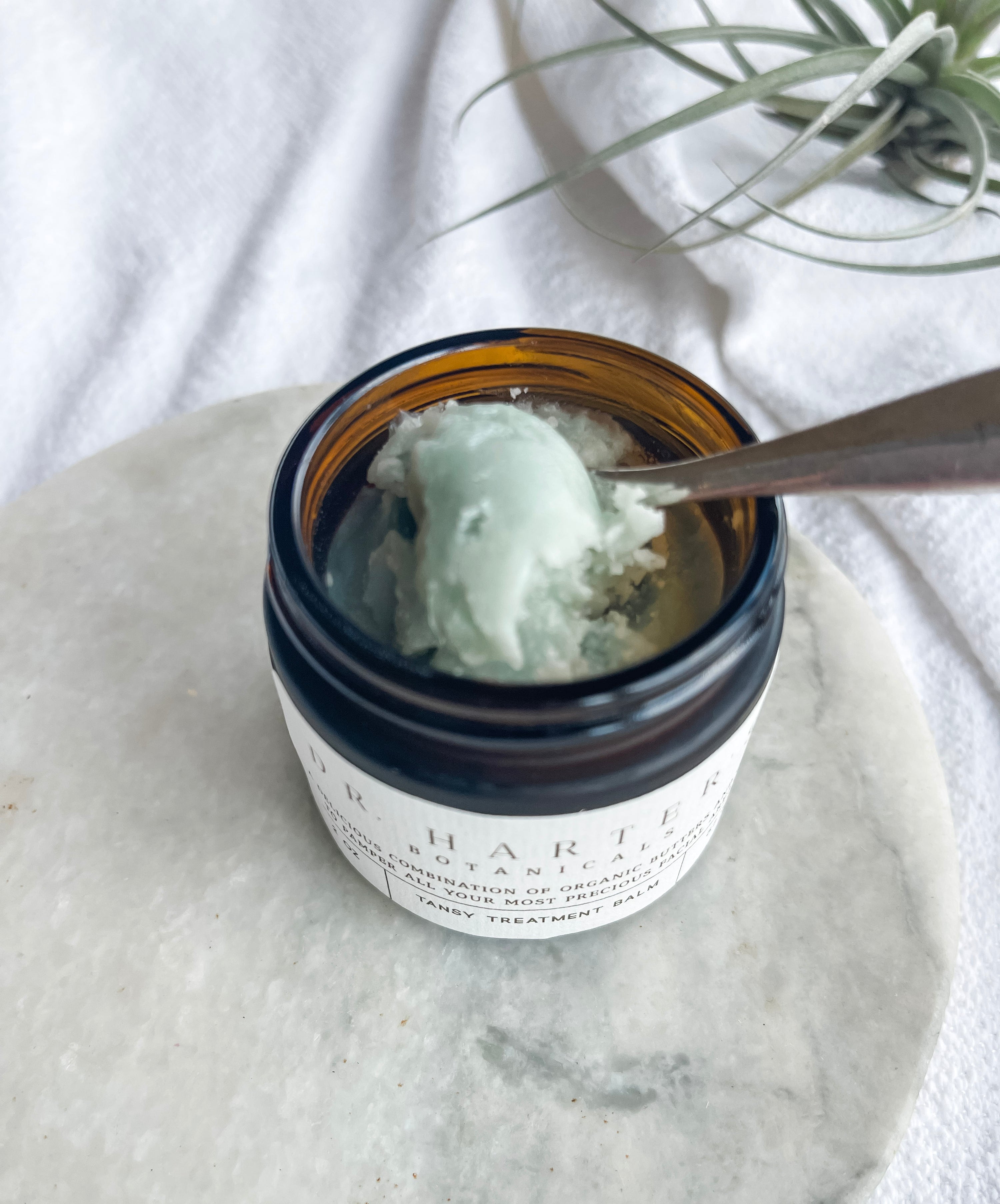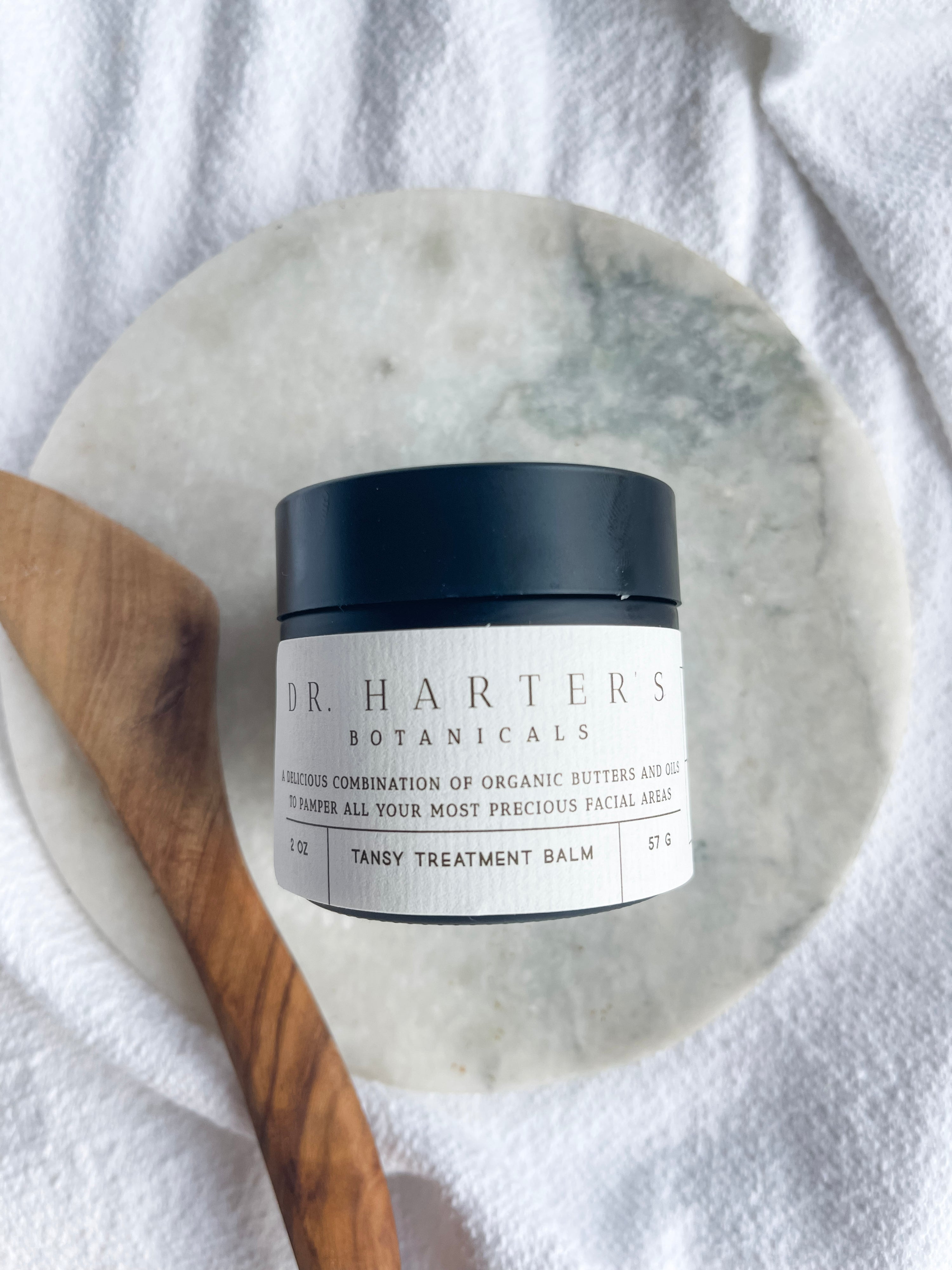 Description
Ingredients
Directions
A rich, hydrating formula for all of your most precious facial areas. The combination of these butters and oils was meant to deeply moisturize around your eyes and mouth, plumping and smoothing the skin. 
Benefits:
Camellia seed oil: this antioxidant rich oil helps to stimulate collagen production and give life to dull skin
Shea butter: this rich butter has antioxidant properties for reducing skin aging and its anti-inflammatory effects smooth skin
Cocoa butter: this decadent butter is very high in antioxidants and will help to prevent skin cell damage from UV rays
Marula oil: a light oil that is found to increase elasticity of the skin while softening wrinkles
Baobab oil: this thick, golden oil is high in essential fats that are slow to penetrate the skin yet softens and smooths skin
Blue Tansy flower extract: a beautiful oil extract that gives this balm its wonderful color and scent. It is an essential oil extract of the Tannacetum annuum (Blue tansy) plant and is known to have powerful antioxidant properties. It is traditionally used to assist in reducing fine lines and wrinkles. 
Virginia Cedarwood extract: anti-inflammatory and antimicrobial to aid in the prevention of acne as well as slowing down the aging process
Vanilla flower extract: this essential oil gives our formula its sweet, rich scent as well as adding anti-inflammatory properties to soothe skin
Ingredients:
Camellia oleifera (Camellia) seed oil, Butyrospermum parkii (Shea) butter, Theobroma Cacao (Cocoa) seed butter, Sclerocarya birrea (Marula) oil, Adansonia Digitata (Baobab) oil, Tanacetum annuum (Blue Tansy) flower extract, Juniperis virginiana wood (Virginia cedar wood) oil, Vanilla Planifolia (Vanilla) flower extract, Limonene
Apply a small amount of balm to delicate areas of the face and neck. Best to use on wet skin or mix balm with a few drops of water in palm before application.
Caution: Do not ingest. If oils get in eyes rinse immediately with cold water.
FAQ
Can I be allergic to blue tansy?
If you have an allergy to ragweed, or the Asteraceae family, you may also react to blue tansy.
Why should I use the product on a damp face?
This balm is formulated to be slightly compact so that you can use a small amount at once. Using water to put the product on your face softens the formula as well as increasing its spreadability.
Introducing
Blue tansy extract
While the extract of this plant is a rich, gorgeous blue, the flowers are a vibrant yellow. The extract is loved in the cosmetics industry for its powerful antioxidant capacity. It can calm skin irritations and is known to reduce the appearance of fine lines.
Introducing
Baobab oil
This oil comes from pressing the seeds of the beautiful baobab tree that grows in Africa. The oil is extremely anti-inflammatory and helps to soothe skin. It is known as super hydrating and can prevent wrinkles by supporting collagen production in the skin.