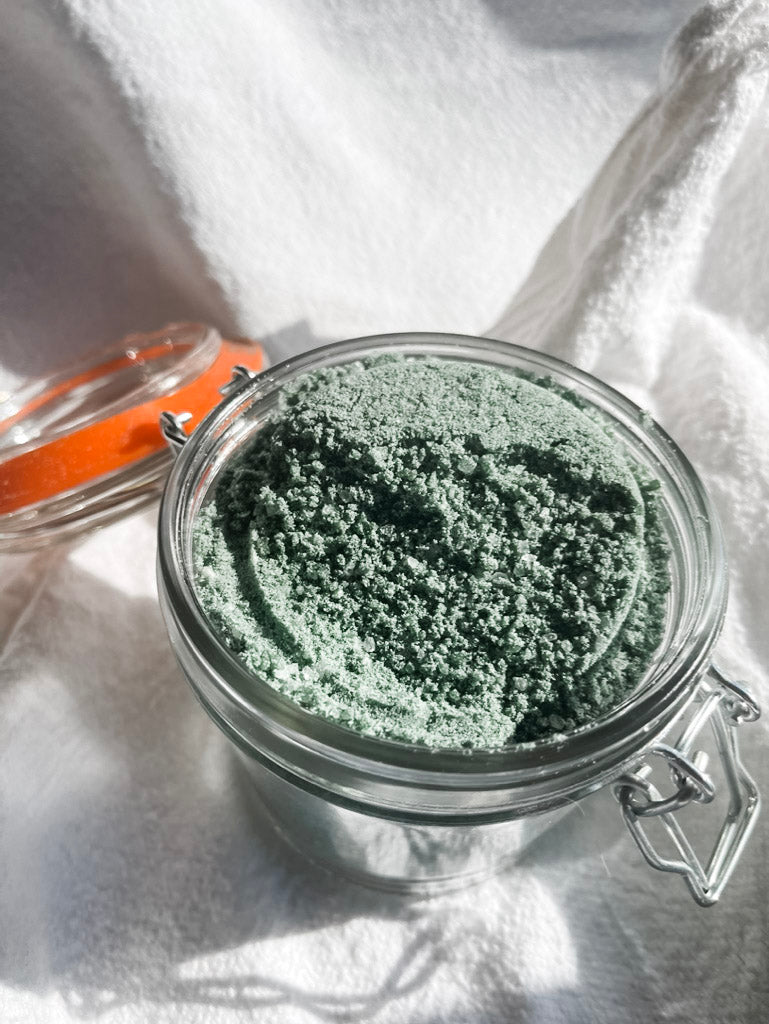 Description
Ingredients
Directions
This salt bath is like stepping into the warm, beautiful sea. The color from the blue spirulina adds to the indulgence and luxury of this soothing sea bath. Close your eyes and take yourself on a dream vacation, right from the comfort of your bath tub. 
12 oz jar
Benefits:
Pacific sea salt: this sea salt that is harvested off the coast of Northern California is high in minerals and can help to hydrate the skin. 
Dead sea salt: extremely high in minerals, this salt is known to be used in salt baths to help relax muscles and soothe skin. 
Sal de gris: this velvet grain salt adds a soft texture to the bath while providing an anti-inflammatory effect. 
Sodium bicarbonate (baking soda): a common ingredient in bath salts due to the detoxifying and softening properties of this powder. 
Blue spirulina: its gorgeous blue green color is essential in this bath. Blue spirulina is also known to be beneficial for the skin for its anti-wrinkle, soothing and anti-inflammatory effects. 
Ingredients:
*Maris sal (Dead sea) salt, *Sel de gris, *Maris sal (Pacific sea salt), Sodium bicarbonate, **Spirulina plantensis powder
 *Natural **Organic
Place 1/4-1/2 cup of salts in hot running water and enjoy.
Caution: Do not ingest. For external use only. If salt gets in eyes rinse immediately with cold water.
FAQ
Is this ok to use during pregnancy?
The product itself is not known to have any contraindications during pregnancy. However, you must consult your doctor as to the safe temperature and length of the bath.
Why would you use baking soda in a salt bath?
Baking soda, or sodium bicarbonate, is known to help soften the skin and has the added benefit of helping the body detoxify when used in a bath.
Will this salt bath stain my bathtub?
In all our testing there was a slight green color after draining that bath that was removed easily with water.
Is this safe for children?
All the ingredients are known to be safe for children. However, if you have any specific health concerns please ask your physician before use.
Introducing
Blue Spirulina powder
With its beautiful blue green hue this powder adds a luxury to the bath like no other. It is known for its anti-aging, anti-inflammatory and moisturizing effects.
Introducing
Dead sea salt
Extremely mineral rich that are harvested from the southern Dead sea. These salts are high in therapeutic benefits, helping to soothe muscles and nourish the skin.