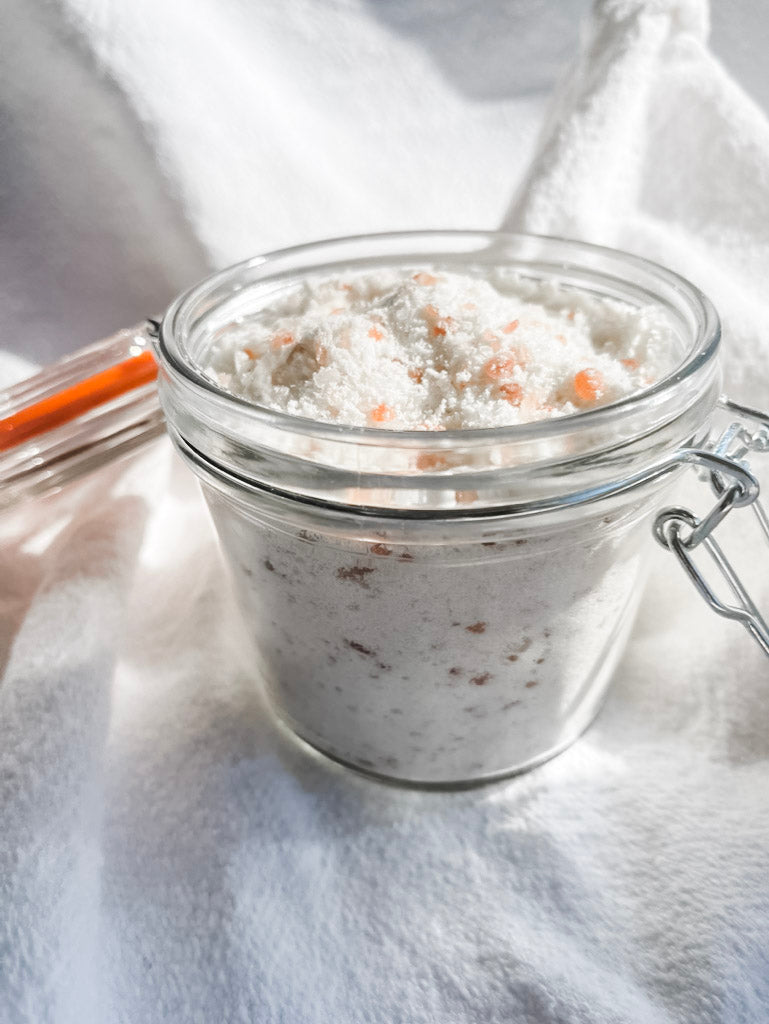 Description
Ingredients
Directions
Bathe in the luxury of a coconut milk and honey combination that nourishes and soothes your skin. Three different kinds of sea salt add to the beauty of this bath and you will feel it on your skin.
12 oz jar
Benefits: 
Sal de gris: a velvet grain salt that provides a high amount of magnesium to soothe achey muscles. 
Himalayan sea salt: a course grain salt that is high in minerals, nourishing and soothing your skin.
Dead sea salt: these salts are high in magnesium and may improve hydration in the skin as well as having inflammation reducing properties. 
Coconut milk powder: high in medium chain triglyceride fats, this powder adds a relaxation component to the bath while nourishing your skin. 
Honey powder: a potent ingredient used to soothe, hydrate and soften skin
Ingredients:
*Sodium chloride (Himalayan Sea salt), *Sel de gris, *Maris sal (Dead sea salt), **Cocos Nucifera (coconut) milk powder, **Honey powder
 *Natural **Organic
Place 1/4-1/2 cup of salts in hot running water and enjoy.
Caution: Do not ingest. For external use only. If salt gets in eyes rinse immediately with cold water.
FAQ
Is this ok to use during pregnancy?
The product itself is not known to have any contraindications during pregnancy. However, you must consult your doctor as to the safe temperature and length of the bath.
What is the purpose of the honey in the salt bath?
Honey powder lends a beautiful aroma to this formula. It also has nourishing and soothing properties for the skin when used in a bath.
Will this salt bath stain my bathtub?
In all our testing there was not any sentiment or color that retained in the tubs.
Is this safe for children?
All the ingredients are known to be safe for children. However, if you have any specific health concerns please ask your physician before use.
Introducing
Coconut milk powder
Coconut milk powder is one of the best moisturizers thanks to all of its luxurious essential fats. It is also anti-inflammatory and nourishing for your bath.
Introducing
Himalayan sea salt
Pink Himalayan sea salt contains all of the trace minerals that your body needs. In the bath it provides a relaxing experience while increasing your body's ability to detoxify.