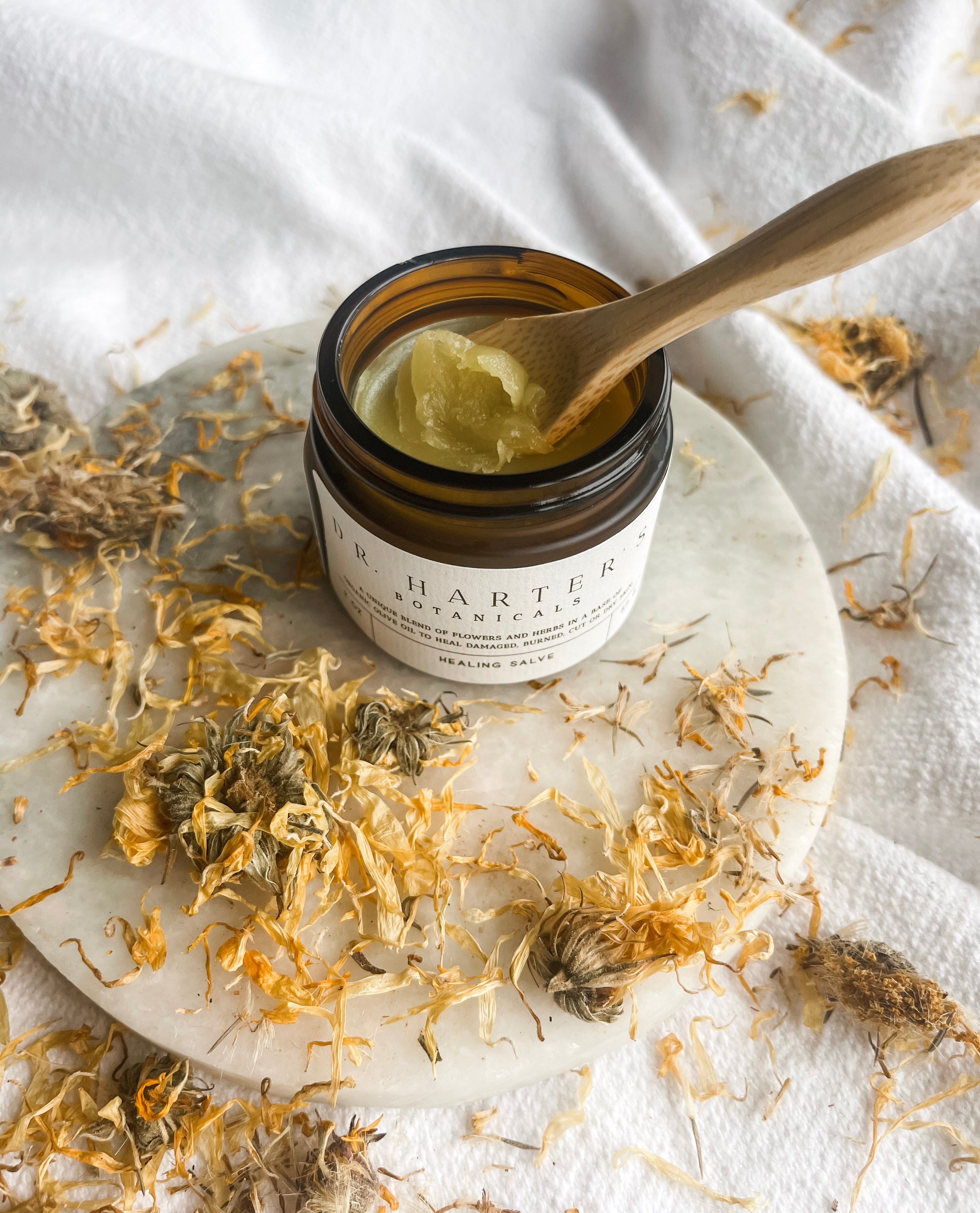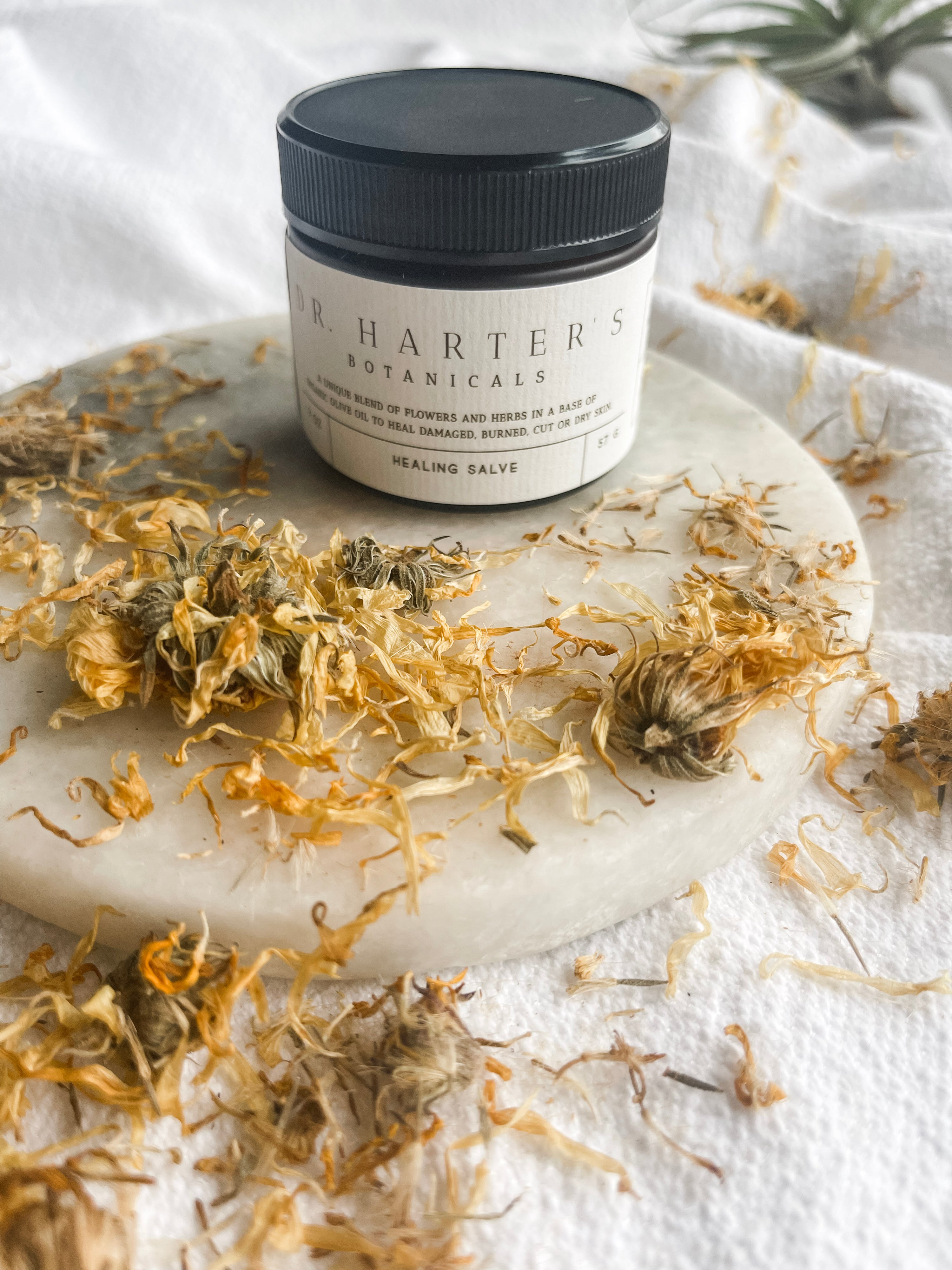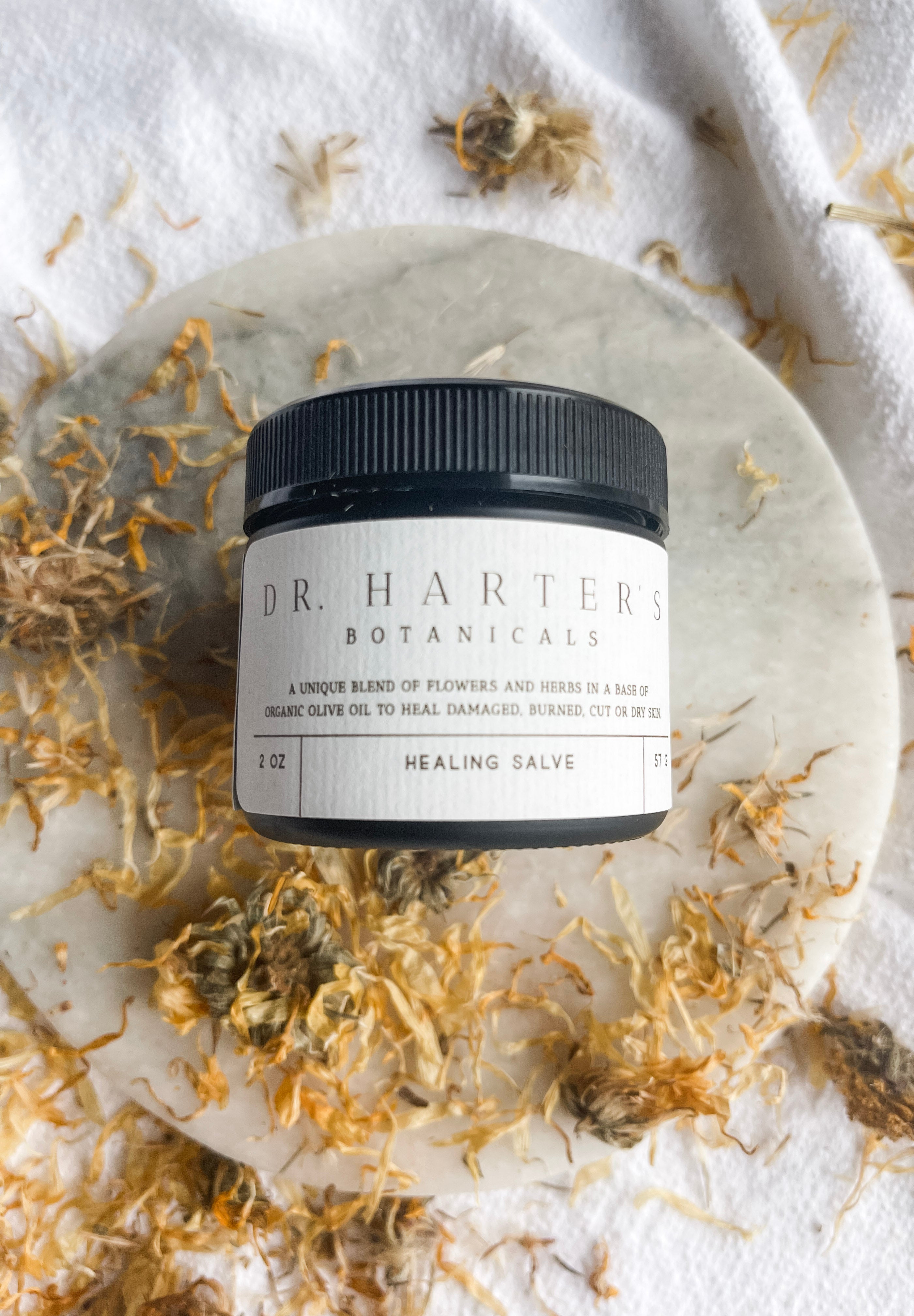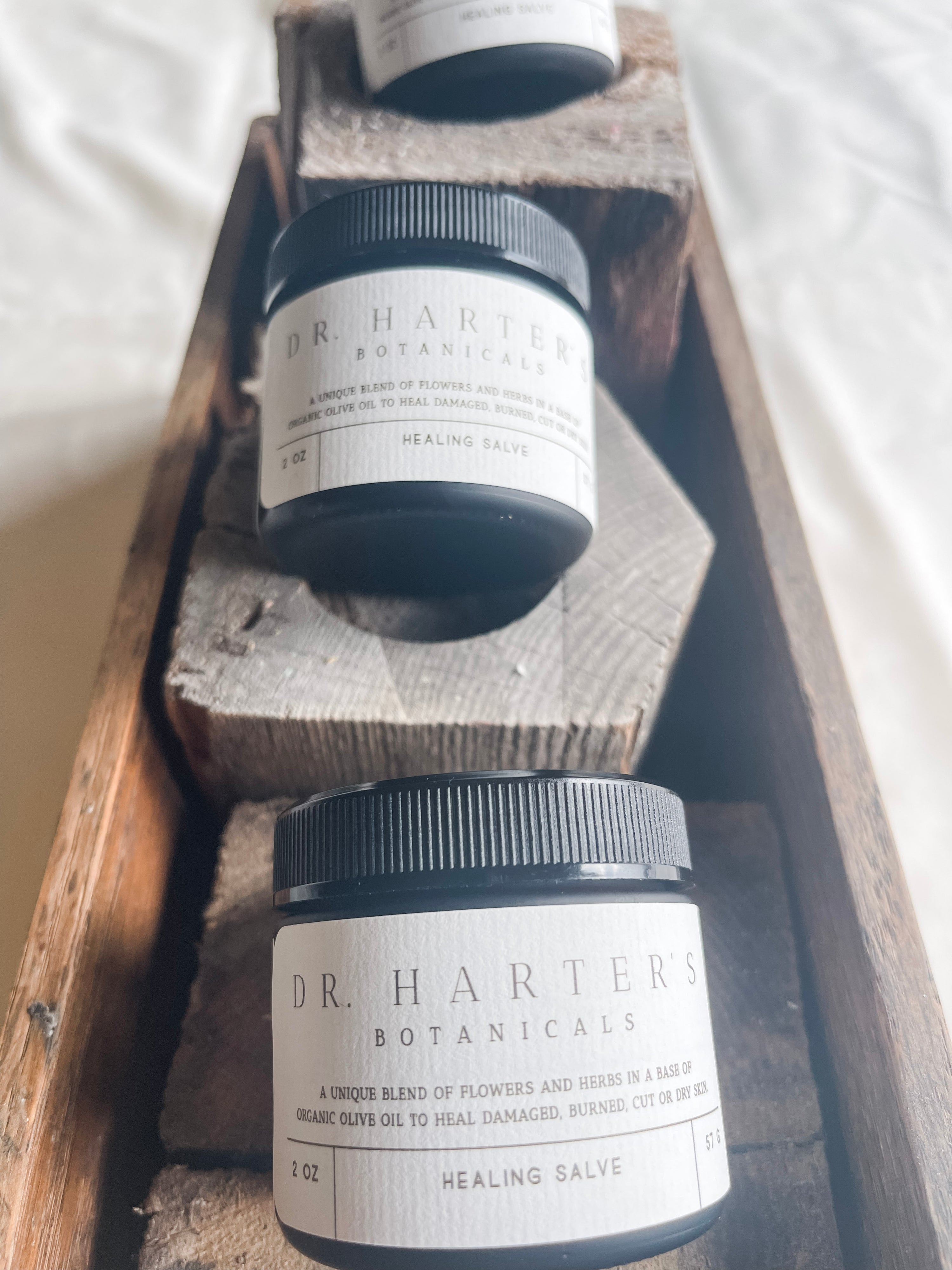 Organic Herbal Healing Salve
Description
Ingredients
Directions
This topical salve was formulated as a healing aid for all skin adversities. Whether a cut, burn, bug bite, rash or simple dry skin, this concoction will prove to soothe and heal. 

Benefits: 
Lavender: has been proven to reduce inflammation, speed wound healing and have an antibacterial effect
Mullein: is an anti-inflammatory plant that has significant wound healing properties
Rosemary: has multiple topical benefits including anti-aging due to the antioxidant capacity, anti-inflammatory and wound healing as well as Antimicrobial effects
Yarrow: is anti-inflammatory and wound healing 
Wormwood: is a powerful plant for topical use with anti-inflammatory, antibacterial, analgesic and wound healing effects
Plantain: when used topically, increases collagen and modulates the immune system to heal wounds
Chickweed: known to have anti-inflammatory components, has been used as a traditional treatment for cuts, burns, bug bites and wounds
Arnica: has traditionally been used to prevent and resolve bruising but also has beneficial effects on certain pain such as osteoarthritis
Calendula: has been proven to have considerable benefits when used in wound and burn healing
Peppermint: has consistent benefits topically when it is used to relieve itching, inflammatory pain and heal wounds
Ingredients: (all organic) Olive oil, Lavandula spp. (Lavender flower), Verbascum spp. (Mullein flower/leaf), Rosmarinus officinalis (Rosemary), Achillea millefolium (Yarrow), Artemisia absinthium (Wormwood), Plantago spp (Plantain leaf), Stellaria media (chickweed), Arnica montana flower, Calendula officinalis (calendula) flower, Mentha piperita (peppermint leaf), beeswax
RECOMMENDATIONS FOR USE: Apply a small amount to skin and rub in until absorbed. Use liberally, applying every 8-10 minutes, with cuts, burns and wounds.

Caution: For external use only. Keep away from Children
Organic Herbal Healing Salve
FAQ
What is the best use for the salve?
This product has the effective properties of ten organic herbs to support the body's natural ability to heal. Use it with any cut, scrape, burn or wound. It can help to speed the healing process for any skin injury.
Can I use this salve on deep wounds?
While it is a wonderful healing salve for superficial wounds, it is best to treat deep wounds with the help of a doctor.
Introducing
Plantain
This plant grows as a weed in most arounds around the world. The traditional uses call for chewing the leaves of the plant and apply directly to cuts, wounds and abrasions. It is a powerhouse herb for healing the skin and why it is used in our formulation.
Introducing
Olive oil
The oil that is most likely in your kitchen cabinet or counter is a nourishing oil for the skin. The organic olive oil that we use is high in polyphenols, is highly hydrating and can reduce inflammation in the skin.