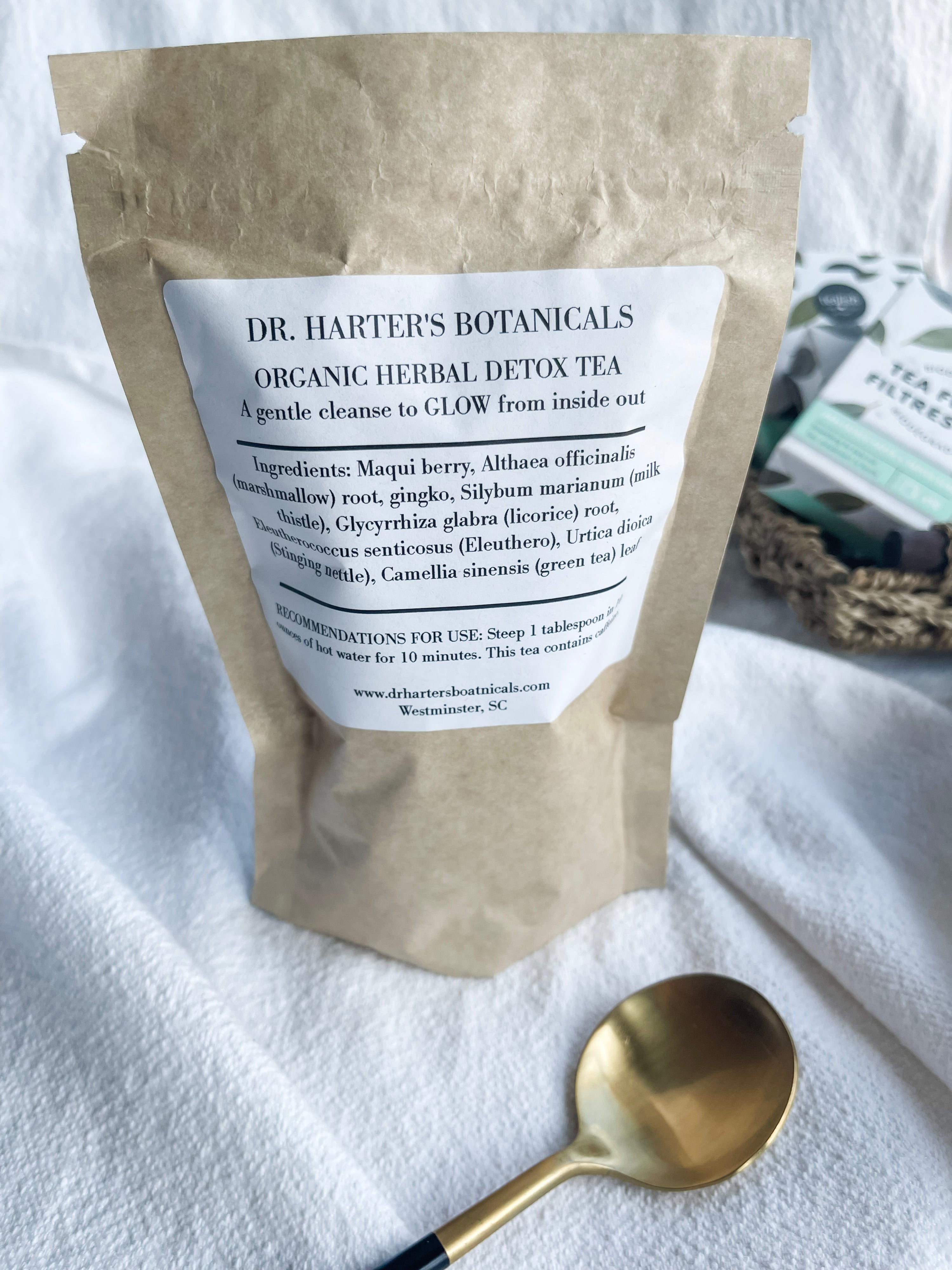 Description
Ingredients
Directions
A gentle cleanse to GLOW from the inside out. This rich & delicious blend has antioxidant and anti-inflammatory effects that support a healthy detoxification for everyday use. 
Benefits: 
Maqui berry: contains anthocyanins with the richest source of antioxidants and have been shown to reduce oxidative stress, improve insulin and weight as well as protective for the digestive tract
Marshmallow: the root is used in medicine and has antioxidant and anti-inflammatory effects and is protective in the GI tract
Gingko: is widely used for antioxidant effects of the cardiovascular and neurological systems but also has positive effects with metabolic syndrome symptoms (weight gain, insulin resistance
Milk thistle: the seeds of this plant have a protective function in the liver against toxins and aids in the therapeutic effect in diabetes and metabolic syndrome
Licorice: is widely know that its roots protect the liver, have powerful antioxidant capacity and anti-obesity potential
Eleuthero: supports adrenal function and endurance, especially during times of stress
Stinging nettle: a plant high in minerals that acts as an anti-inflammatory as well as diuretic.
Green tea: Has many proven beneficial effects including antioxidant, antimicrobial and body weight reduction.
One 4 oz. bag of loose leaf tea
20-30 servings per bag
Ingredients: (all organic)
Maqui berry, Althaea officinalis (marshmallow) root, Gingko biloba (Gingko), Silybum marianum (milk thistle), Glycyrrhiza glabra (licorice) root, Eleutherococcus senticosus (Eleuthero), Urtica dioica (Stinging nettle), Camellia sinensis (green tea) leaf
RECOMMENDATIONS FOR USE: Steep 1 tablespoon of tea in 8-10 ounces of hot water for 10 minutes and enjoy
Caution: Contains caffeine
FAQ
Is this tea safe to use during pregnancy and breastfeeding?
This tea contains caffeine and may not be suitable during pregnancy. Ask your doctor before consumption.
I am allergic to ragweed, can I drink this tea?
Milk thistle is in the same family as ragweed so some people who are allergic to ragweed can also be sensitive to milk thistle.
Will this tea cause weight loss?
We have not done any specific studies with this tea and weight loss. However, the components of the tea have been shown to help the detoxification pathways and reduce unnecessary weight.
Does this tea taste good?
All of our teas are formulated for their effectiveness AND taste. We know that if it does not taste good, you won't drink it and won't do anyone good. With the addition of the maqui berries and marshmallow root, the tea is a sweet and tangy combination.
Introducing
Magical Maqui
The Maqui berry, also known as Chilean wineberry, is native to South America where it used as a tonic in beverages that imparts a gorgeous reddish hue and powerful antioxidants.
Introducing
Milk thistle
This beautiful flowering plant produces an abundance of seeds that are used medicinally for their power to support the body's detoxification pathways. The leaves of the milk thistle plant are also used in medicine as a diuretic, supporting the kidneys in getting rid of excess water retention.