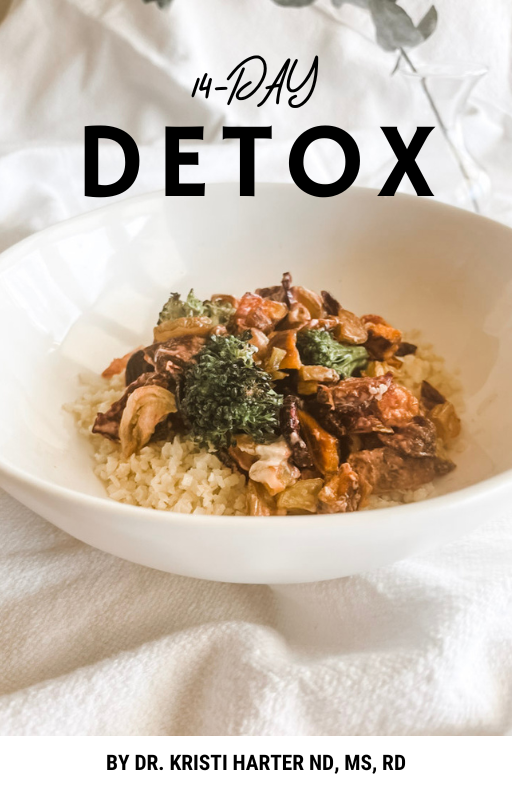 A little more EXTRA than our 7 day program, this is a self-guided 14 day program to jump start your BEST health. 
In this easy to use program you will follow the menu plan and recipes to use food as medicine to optimize nutrition and start feeling your finest. We eliminate the greatest sources of inflammation in the diet so that you are eating the healthiest (and most delicious) foods for your body.
This program also includes meal prep tips so that you can prepare certain dishes ahead to make your week a breeze. The grocery lists are essential in gathering all your ingredients and knowing exactly what you are making for meals each day. 

With simplicity and taste in mind, Dr. Harter created this plan as a kick start to modifying your everyday diet to include nutritionally dense foods that will optimize your liver function, elevate skin health, increase energy and boost moods. 
The program also includes tips on how to support all detoxification systems in your body with easy to use tricks to incorporate into daily life. Use this program to learn how switching up your foods can really change how you feel (and look), as a reset every few months or for the delicious recipes (there are over 40 included in the book!). 
FAQ
What foods will I avoid on the detox?
You will be avoiding the foods that are known to be the most inflammatory in the diet. Sugar, alcohol, grains, soy, dairy and peanuts are off the menu for this two week long detox.
Will I feel badly during the detox?
Many people will experience a day or two of aches or pains while starting a cleanse. As your body is getting rid of inflammation and excess toxins you may feel sluggish or achey but those symptoms should resolve within a few days.
I have a lot of health issues, will this detox help me?
It is always best to ask your doctor or healthcare practitioner before starting any new health program if you have specific concerns. This detox is a short term change to your daily diet and is not intended to treat any illness or condition.
Will I lose weight on the detox?
Weight loss takes time and this detox is not designed for quick weight loss. You may experience some loss of weight that is visible but it is typically due to water loss during this short period of time. This detox was designed for a jumping point or reset, not a long term weight loss program.
Introducing
Simple yet delicious
This program is meant to provide you with vitamin packed meals that are really delicious. But we don't want you spending all your time in the kitchen! Meals are meant to be made and served within 30 minutes.
Introducing
Meal prep
If you have not ever taken a few hours before your week starts to prep for meals you are going to LOVE doing it. Making components of meals or snacks you can have in your fridge for your week will make you feel like a pro planner and will eliminate those moments when you are SUPER hungry with nothing to eat.